There's nothing quite like the feeling of gliding across a calm body of water. Stand up paddle boards offer riders this feeling without the stress or hassle of owning and maintaining a boat. It's also a fresh perspective that differs from a kayak or canoe. Stand-up paddling is not just a great way to get outside, it is a fun, easy, and enjoyable way to get a great core workout without being stuck in the gym. We want to introduce you to the new 2021 iSUP that does it all.
That's right. We are talking about the Connelly Pacific inflatable stand up paddle board. Also known as the board that does it all. With this, you get the best of the best of the best. You get a stand up paddle board that is sturdy, firm, glides effortlessly, and has the added benefit of fitting in the back of your car once deflated.
Get on the Water with Style
Connelly's Stand Up paddle boards are crafted with performance, durability, and stability in mind. Inflatable SUP's offer a great way for beginner and advanced paddlers alike to get on the water in style. They are compact when transporting, so you can say goodbye to the struggles of loading your boards onto roof racks or hanging them out of the back of your car. With an inflatable SUP you have the freedom to travel and expand your expeditions to surrounding lakes and rivers and other bodies of water.
The Connelly Pacific iSUP is ideal for paddle boarders looking for a high-quality paddling experience in a compact, easy to move package. The Pacific is made with a technology called drop stitching, enabling the SUP to be more rigid, stiff, and stable. Essentially, within the paddle board are thousands of strings that connect the top of the board to the bottom. When you inflate it, it becomes significantly stiffer. It will not act like a typical inflatable; when you put pressure on it, air will not move away from you. The feel is practically the same as a molded epoxy board when you stand on it. Because of this technology, it's perfect for any and all skill levels.
Perhaps the best feature of the Connelly iSUP is its optional flip up seat backing, you can lounge and float as if you were in a kayak. Flip the backrest down and continue paddling on your Connelly iSUP, the new 2021 iSUP that does it all.
Get More From Your Next Ride
The all-new 2021 Pacific offers much more than just a stand-up ride. With Connelly's exclusive inflatable seat and backrest fitted directly into the board, your next paddle will be more versatile than your last. When not in use, the backrest lays flush with the top of the deck and out of the way. If you want to take a more leisurely on water excursion, simply lift the backrest up and adjust the straps to provide your desired level of support. We tested it ourselves at Sun Sports+ and could not be more excited about this water sports product. If you're looking for the Wake Wizard on his days off, you can rest assured that he is out exploring on the Connelly Pacific.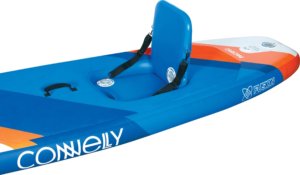 The Pacific is comfortable to sit and lounge on, while also being stable enough whereas a rider can easily rise back to his or her feet. We recommend the Pacific to anyone looking to travel around and explore the lake's region. When inflated, the board is 10'6". It weighs a mere 28lbs, so it's a comfortable carry for most riders. The Connelly Pacific is the new 2021 iSUP that does it all.
Help us make your next water sports purchase your most educated one yet. Call with questions at (207) 693 – 3867. Email us at info@sunsportsmaine. Make sure to follow us on Facebook and Instagram!